23rd Aug 2006 | 20:26 pm
Music:: patty w

ATTENTION!
If you cannot see a post directly above this, then you have been cut from my friends list.



If you have been cut, it's probably because you never update, or I don't really know who you are, or we don't really have anything in common, etc. If you think a hideous wrong has been done to you, then comment, but if I don't really know you, then you probably don't really know me, and won't be too upset about being cut.

If, on the other hand, you really wanted to leave, and I've kept you, then comment, too.

Remember kidz, it's only the internets!
1st Jan 2000 | 00:00 am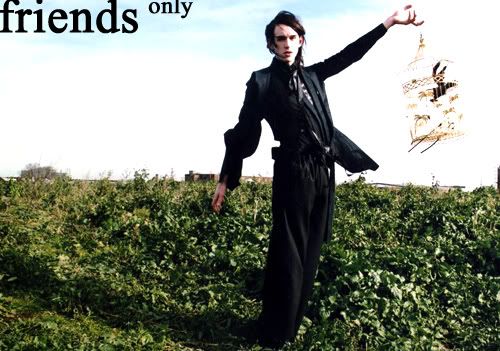 Comment to be added.


Please don't add me if:
.You have nothing whatsoever in common with me, unless I know you - and like you! - in ~real lyphe~.
.You have no intention of ever reading this, and just want to get more elghey friends, like on myspazz.
.U tlk lyk dis n nt 4 lolz reasons.
.You think Razorlight and/or the Arctic Monkeys are the height of musical perfection.


I like these things:
.The Smiths
.Britpop
.Synths
.Books, esp. Oscar Wilde, John Fowles & George Orwell, but not The Da Vinci Code
.Cake & tea
.Boozes
.Lolz


Thx u & good day!

P.S. last.fm
myspace